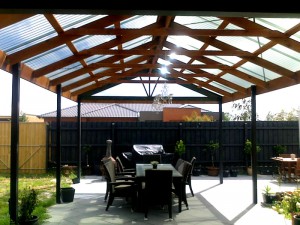 Adding a pergola, carport or verandah to your home, can add additional space and increase the overall value of your property. To ensure you create a space that meets the needs of your lifestyle, there are some common questions for you to consider:
What materials and colours will compliment my existing home
How much sun/ light do I wish for the area to receive?
What is the purpose of the new area? Entertaining, Relaxation, Family Time, Storage etc.
What shape/ style of roofing do I want?
How much am I willing to spend? What is my budget?
At Top Shelf Carpentry, when we meet with you to quote your works, we will discuss all these questions with you to gain an understanding of the area you wish to create
The most common types of roofing available are:
Colourbond Steel/ Corrugated Iron
The benefits of Colourbond roofing include:
Blocks out heat
Smooth clean, reflective grey colour on underside
Available in a variety of colours and shades to match in with your existing roof colour
Durable, long-lasting and light weight
Ideal for a flat roof or roof with a limited pitch as rain will still run off this type of roofing
Provides a neat, modern appearance
Colourbond steel is made from a steel metal sheet base combined with a zinc/ aluminium coating to prevent corrosion. It is then covered with a conversion layer and baked with a polyester primer on the surface then covered with an exterior paint top coat to ensure maximum durability. Colourbond Steel is produced by Bluescope Steel.
Laserlite Roofing
The benefits of Laserlite roofing include:
Available in different "grades" e.g. standard, clear dark tint or non transparent
Available in different heat and light bloakage levels
Available in a rang of colours
Suitable for high wind areas
Laserlite roofing is made from a polycarbonate sheet and is the only sheet in Australia with "Advanced Weatherguard" technology to provide your roofing with long lasting durability.
Many of our customers have chosen a combination of Colourbond and Laserlite for their pergola roofing. We believe this provides a great balance of heat and sun protection whilst still providing light in to the outdoor space.
Lexan Thermoclear Multiwall
The benefits of Lexan Thermoclear Multiwall include:
Resistant to very hot or very cold temperatures
Available in unlimited colours, hues, and textures
Suitable for high wind areas
Can be cut to any width or length to suit different structures
Reduction in need of battons in roofing
Lexan Roofing is a polycarbonate sheeting featuring a two-sided proprietary surface treatment which protects again the degrading effects of ultra-violet radition in natural sunlight.
At Top Shelf Carpentry we can provide you a free quote and advice to ensure you choose the right roofing type for your outdoor area that is both functional and complimentary to your existing home.