When choosing a builder, you want to know the person or people who are going to be in and around your home. You want to be able to trust them and you want to know they have the experience and knowledge to complete the works. So today, we're giving you a little insight in to who WE are and who is in our team.
Who are the team behind Top Shelf Building and Carpentry (TSBC)?
Craig – Builder

All Craig has ever known is building! Craig's passion for all things timber and building started from a very young age and has continued ever since. He completed his carpentry apprenticeship back in the 1990s (WOW!) and then furthered his studies to become a Registered Builder.
Craig enjoys all aspects of building from extensions & renovations to deckings & pergolas. He enjoys completing a job; seeing the end product and leaving knowing that the customer is happy.
On-site, you will quite often hear Craig, Jayden & Nick laughing and having a good joke with each other. The best type of team is a happy team!
In his spare time, Craig enjoys camping, spending time with his two sons and is a member of the local CFA.
Jayden – Carpenter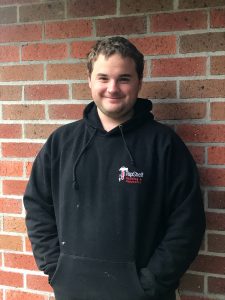 Jayden is Craig's right-hand man.
Jayden started at TSBC at the start of 2015 as a VCAL student and we are pleased to say he never left! In 2016, we officially employed Jayden as a 1st year Carpentry Apprentice and he officially completed his apprenticeship with us and is now a qualified Carpenter. Since becoming fully qualified, Jayden enjoys the opportunity to run his own jobs on site but what he enjoys the most is, is seeing the client's happy face when the job is complete.
When Jayden isn't at work, he enjoys being a part of his local CFA and spending time with his friends.
Nick – Apprentice
Nick joined TSBC in 2020 as a 1st Year Carpentry Apprentice. Nick is a great addition to the TSBC team and is enjoying learning all aspects of building & carpentry. Nick works with both Craig & Jayden on-site but he is also working on the theory component of his apprenticeship and doing a fantastic job at completing his requirements. He does prefer to be on-site on the tools rather than stuck in the books!


Jackson – VCAL Student
Jackson joined us in 2021 as part of his VCAL studies. He is on-site once per week whilst attending secondary school the other 4 days per week. Jackson has a keen interest in building & carpentry and VCAL allows him the opportunity to get his hands dirty and provide him with experience to see if Carpentry is a path he wishes to follow in the future.
Liv – Business & Office Manager

Liv is the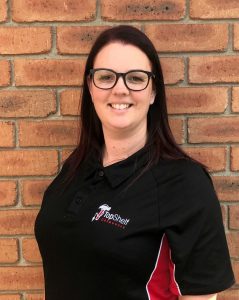 go-to person for all things paper, scheduling and organisation and has been an administrator for over 20 years. She has worked in various fields such as health & fitness, plumbing, hospital and medical and of course construction. She has a passion for planning and ensuring that all documentation and scheduling of jobs is on track. Liv enjoys all aspects of her role at Top Shelf Building & Carpentry (except the part where the boys drive her crazy!) but her favourite part would be website development and business branding.
You will mainly hear from Liv via email. Liv sends all our correspondence, invoices, job updates etc but you'll also see her pop up on our social media. On a rare occasion, you might see Liv pop by a job-site (but this is very rare… like the Loch Ness monster! She leaves the on-site stuff to the boys.)
We also have an amazing team of sub-contractors who we regularly use on-site including plumbers, electricians, painters etc. We count ourselves very lucky to be surrounded by such awesome people!
Thanks for stopping by and getting to know our team! We look forward to meeting you very soon.