What is the difference between a pergola and a verandah?
A pergola is:
A flat or pitched roofed structure (is open-aired, shade cloth roofing or shade batons)
Can be attached to your home or built as a free-standing structure
Can be built with treated pine or merbau timber
A verandah is:
A flat, pitched, double pitched or gable roof structure (fully roofed)
Attached to your home
Can be built using laserlight, colourbond or corrugated iron roofing
Can be built with treated pine or merbau timber
When choosing the type and style of structure you wish to build, it is important to consider some key factors:
do you want a roofed or non-roofed structure? (main thing to consider)
what type of roofline is your existing home?
what is the area going to be used for?
If you choose to build a verandah (most people choose a roofed structure), you must then decide if you wish to build a flat or pitched one. Here are some handy tips to assist you in choosing the right type for your home.
Flat roof
to achieve a functional area under a flat roof, it is best to ensure that the height of the roofline is approx. 2.4m and above with a 5° angle to allow for rain to flow from the roof.
the drawback of a flat roof is that the area can feel claustrophobic if not enough height is achieved with the roofline which can also hinder the air flow through the structure, making the area become hotter quicker. Unfortunately, if there is a lack of height in your flat roof, you are unable to install fans as there is normally no room or they would hang too low.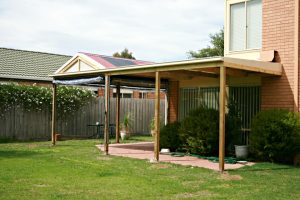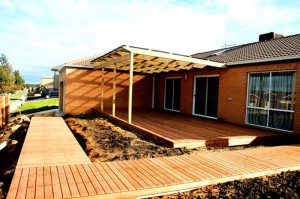 Pitched roof
a pitched roof allows you to have different pitches within the one structure to match those of your existing home. This is of great benefit if you wish the verandah to look like part of your existing home.
due to the pitched roof, the area does not feel as claustrophobic as that of a flat roof. You are also able to install lighting and fans to a pitched roof as there is the space for these to hang down.
a pitched roof may also allow for additional natural light to be projected through the structure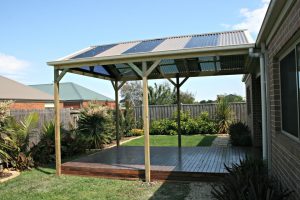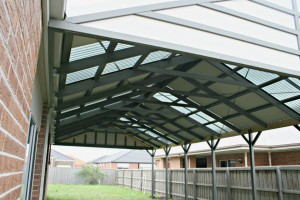 Adding a pergola or verandah to your home can provide you with:
a shaded, protected space to relax and unwind in any type of weather, all year round
if integrated with a decking, you will have a functional space to entertain, relax, work etc.
a space for you to grow climbing plants
added value to your home whilst providing you with additional space
Whatever structure and roofline you choose, the most important factor is that it is complimentary to your existing home and landscaping.