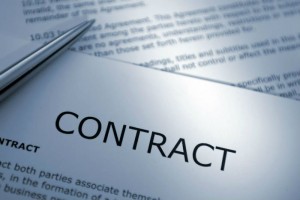 A building contract is a written legal document to be completed should you:
be building a new home
plan to repair or renovate your existing home
plan to extend your existing home or
plan to add outdoor areas such as decking, verandahs, pergolas  to your property
From 1st September 2016, your builder must provide you with a copy of the Domestic Building Consumer Guide before you sign any contracts.
A building contract should be between yourself (property owner) and the tradespeople you hire to complete any works. As recommended by the Victorian Building Authority, any works over $5,000 and under $50,000, a "Major Domestic Building Contract – Minor Works" must be signed by both yourself and your builder.  This is an important document that will allow you to fix and settle any disputes you may have. It also allows both parties an understanding of their obligations regarding the works and a timeframe in which the works are to be completed.
The Major Domestic Building Contract – Minor Works includes the following:
Property Owner Details
Builder Details including Registered Builder Registration Number – you can search to see if your builder is current using the Practitioner Search Page through the Victorian Building Authority.
Insurances including warranty insurance, public liability
Land Details
Description of the works to be completed
Specifications and plans including colours, fixings etc.
Construction period – how long are the works going to take?
Contract price
Payment schedule
Instrument of Agreement – signed by both parties
Once the contract is signed by both you and your builder, you may terminate the contract within 5 business days under the "cooling off period" section of the contract. However, if you choose to seek independent legal advice regarding the contract, this section of the contract becomes invalid.
As per the Domestic Building Contracts Act 1995, limited dollar amounts of deposit are to be received by your builder prior to the commencement of works. For works under $20,000, a 10% deposit can be received and for works over $20,000, a 5% deposit can be received.
For works to commence, a Building Surveyor must issue a permit. It is unlikely that a Building Surveyor will authorise the permit should a contract not be completed. The Building Surveyor will traditionally ask for a copy of the contract price page and the instrument of agreement page before issuing a permit.
Two copies of the contract must be always by you and your builder. This allows your builder to have a copy and for you to keep one as well. Do not accept a copy of a contract if your builder has not signed it.
Building contracts are an important legal binding document to protect both you, the consumer and the builder. It is imperative to have a contract in place with your builder prior to works commencing, to allow both parties to have an understanding of individual obligations and requirements.
When you choose Top Shelf Carpentry to complete your building works, we schedule appointments with you to discuss, review and sign any required contracts to ensure you and us have a mutual understanding of the works to be undertaken.