Composite Decking is decking boards made out of recycled products including:
recycled timber fibres
recycled plastics
natural minerals; and
polymer resins.
There are various brands of composite decking available for you to use in your new decking. These include:
Modwood
EKO Decking
Tech Wood Plastic Timber
Future Wood; and
Next Gen Decking
Advantages of Composite Decking
the decking boards are pre-finished and are low maintenance so no deck staining or treatments are required
the decking boards are available in set lengths which minimises join lines in your decking and minimises excess waste
boards are able to be screwed using a hidden fixing which means no nail or screw holes can be seen in the top of your decking boards
available in a variety of colours and timber grain finishes
can be used in deckings built in BAL rated areas (don't know what a BAL rating is, check out our previous blog post to find out)
due to the wood-plastic composite, the decking boards are splinter free, making the area safer for bare feet and pets
Disadvantages of Composite Decking
increased cost to purchase due to the pre-finished aspect and cost to manufacture
if a decking board is scratched or dented, it can be challenging to repair due to the pre-finish
component of the board
can be difficult to repair an individual board within the decking due to the hidden fixing system
Composite decking can be used for both residential and commercial areas such as roof terraces, balconies, deckings, outdoor living areas and alfresco areas.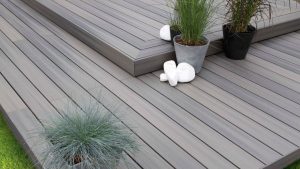 Interested in using composite decking for your next project? Samples of the above mentioned deckings can be obtained from your local hardware store or contact us for further information.