We had a busy end to 2017, finishing off a 42sqm home extension in the gorgeous hills of Mount Dandenong in Clematis. 2018 started just as busy so didn't have a chance to be blogging but we're back online now! We've got loads of ideas to share with you this year, and today we're going to blog about the aforementioned extension!
Home Renovation & Extension, Clematis, Victoria
The Clematis extension started with the blank space (below) that will be used to create the new and  improved home. To gather the information and permits is the more challenging aspect of a building permit as this can take time; it is extremely important that all legalities are sorted prior to the build commencing. Once the plans & permits are approved, your extension/ renovation can begin!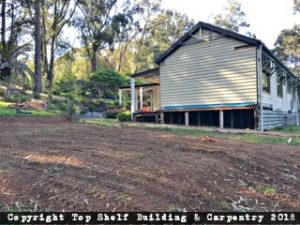 Stage 1: Set – Out
The "set out" is the most crucial aspect of an extension. The set out allows the new space to be created in alignment with the existing home. If your builder fails to get the set-out correct it could create some challenges later in the build. Top Shelf Building & Carpentry complete a set-out as follows:
We place timber pegs in the ground called "hurdles" which are used to designate building lines first, and then stump heights.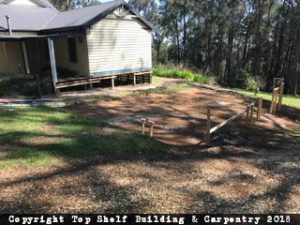 Once the builder has marked and checked the stump holes, they will drill them out. A Building Surveyor will need to approve the stump holes to ensure they comply with building regulations and the details on the plans.
Once approved, the stump holes will be used to concrete the stumps into position, at the height set with the hurdles in step 1.
After the stumps are set, the sub-floor is created starting with bearers then floor joists and lastly, flooring. The sub-floor should be built using the timbers specified on the building plans.
Those 5 steps complete the "set-out" stage of an extension and then the framework aspect of the extension can commence.
Top Shelf Building & Carpentry can't wait to show you part 2 of this blog series; Framework. This is where the extension comes to life! We'll be back in a week to show you the next stage of this home renovation.