Adding an outdoor space to your home is one of the most popular renovations people in Australia do, as it allows you to enjoy the great outdoors all-year round. However, there are a few things to take into consideration when designing your new space to ensure it is not only functional but complimentary to your existing home. Below are some tips to ensure assist you when designing your outdoor space.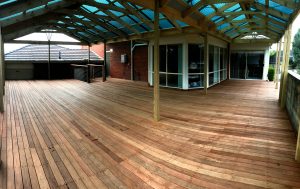 Use
What function and purpose will you use the space for? Will you use the space for entertaining? Is the space acting as an additional living area for your family? Considering what you are going to use the space for, will assist in determining how the area should "flow" and what parts of the area may or may not need to be covered or does your decking need to be reinforced to be able to hold the weight of a spa or pizza oven?
Size

This is largely dependent on the outdoor space you have available to build your decking and pergola but you also need to consider what items will be placing in the area. You may find that you will need to invest in some additional or new outdoor furniture to make the space functional.
Shade
Due to the hot summer days in Australia, it is important to consider if your outdoor space will be sheltered. A roof cover will not only protect you from the sun, it can also protect you from the winter weather as well. Options to think about are a timber batten roof (pitched or flat), covered in laserlite or colour bond sheeting or a simpler option could be shade sails.
Look
Do you want your pergola or verandah to be over a decking or do you have an area already that you would like covered? It is important that the "look" of your new outdoor area compliments your existing home and is an outdoor space that you can enjoy.
Seating
Do you have a gorgeous outdoor table and chairs you want to use on your decking? Or are you interested in some in-built furniture such as benches or even a day bed to laze about and relax in the great outdoors? Will you have sufficient seating and space for all the family to relax at the one time?
Privacy
The last thing you want when relaxing in your outdoor space, is the thought that your friendly neighbour can see everything you're doing. In this instance, you need to consider the views that your neighbours have of your home. Take a moment to look at all the views your neighbours have of your desired space and then determine if you'd like full screen coverage or not. There is a fine line between enclosing an area you've created to give the feeling of space. Remember, a lot of the time you will be seated outside, so a half screen might be enough to create the privacy you wish for whilst still allowing you to enjoy the great outdoors.
All year-round use
You want to be able to maximise the amount of time you can use your deck and pergola so it is important to consider heating and cooling options when designing. Patio heaters are an easy way to warm up the area in winter and fans make a great addition to the space for the warmer summer months.
Cooking and access to food preparation areas
Do you want to be able to cook outdoors? Will you have the space to install a fridge to help with food preparation and storage? The addition of a kitchen, bbq or pizza oven to your outdoor space is one you should consider as you will definitely be wanting to eat and entertain in the warm summer nights. If you don't have the space for an outdoor kitchen, it is beneficial to build your decking near your indoor kitchen to allow for ease of food preparation and cleaning up.
Cleaning & maintenance
You want to be able to enjoy your space and you would rather be relaxing or entertaining in it, than cleaning it? It is important to choose materials that are durable and low maintenance, so you can spend more time relaxing and less time cleaning. Decks will always require some maintenance to keep their appearance, depending on the timber it is built with.
Pets
Will your pets have access to the new decking area? Whilst outdoor covered spaces are great to keep your furry friend protected from the elements, it is best to encourage your pet to not use the decking as a toilet stop. This can cause stains to occur on the decking which are challenging to remove.
There are lots of considerations to be made when designing your outdoor space. It is best to consider all the points above to ensure you design the area to best suit your needs (and wants!)